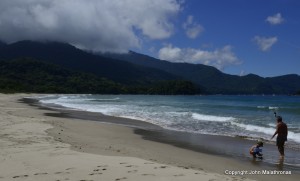 The coastline between Santos and Rio, named Costa Verde and the size of the South of France, has a reputation of one of the most beautiful in the world; and frankly, after six trips to Brazil, I thought it was time for me to explore it.
I was asking Brazilians beforehand whether the beaches of São Sebastião or Ubatuba were better, but I was getting blank stares. This is because the coastline is divided into large administrative chunks, each stretching for over 100kms and containing 60-odd beaches. São Sebastião, Ubatuba (state of São Paulo), Paraty and Angra dos Reis (state of Rio de Janeiro). You need a car for that and renting is expensive in today's Brazil with the real pushed high because of record interest rates (over 10%) and a commodity-fueled boom. Otherwise, you must stick to the buses which are comfortable and cheap but limiting in their choice of destinations: around the main towns.
My first choice was Ilhabela, Brazil largest island and a state park. It is reached by a flat ferry from São Sebastião – passage is free – and once there, the infrastructure is surprisingly good. Not many European tourists reach the island with Argentinians and Brazilians making up 99% of the visitors. It seems the island, visited and named São Sebastião by Amerigo Vespucci, no less,  has not been marketed to gringos.
I now know why. It may well be intentional. The Mata Atlântica – the Atlantic rainforest – which covers the island and most of the Costa Verde is virgin, yes, and some difficult-to-reach  beaches around the island are fantastic, but there is (literally) a sting in the tail for Ilhabela tourists. The island's dreaded Black Fly whose sting you don't feel at first but you do for days and weeks afterwards.
It is as bad as they say. The first night I couldn't sleep for the itch. For four days I couldn't wear closed shoes. I counted  36 bites I could see, that still itch when I write this – five days later-  even after the combined attack of Eurax, Fenistil, Calamine and Emistin. Nothing works, except salty water, I found by trial and error.
The tiny Black Fly is not uncommon in Brazil, but it thrives particularly in Ilhabela because it lays its eggs near waterfalls, and the blessed island has many of those. Indeed, its best beach, Castelhanos, reached only by jeep after an hour through the jungle, and *sigh* several waterfalls, should be labelled with a health warning. It is the lair of the little bleeders which, when the government tried to eradicate them with DDT in the 1950s, developed resistance to it and, it seems, every repellent known to man and beast.
Except two: Citronella lotion is used by the locals effectively, but even that needs to be applied once an hour. Exposis Extrême made using a Bayer formula is also 70-80% effective. Just to give you an idea of the scale of the problem: my 36 bites came in the time between arriving in Castelhanos and spraying myself and between coming out of the sea and, again, applying the repellent.
It's a pity because Ilhabela is fantastic. The capital, Vila, is beautiful; my boutique pousada, Caravela, one of the friendliest I have stayed in Brazil; the rainforest, virgin and accessible; the beaches with the jungle extending to the sand, stunning.
If only..
John Malathronas's second edition of Brazil: Life, Blood, Soul is now available on Kindle.